This is part 2 of 2 on finding just the write, unique words and ways, to say thank you. Part one is here.
There are more ways that just wording to make your "thank You" unique and "you". One way is to simply shop for a card that says what's in your heart and then sign it. I've received tons of birthday cards and thank you cards, too, that are just signed. You could add something like:
"It's hard to find the right words to express how grateful I am for all of your help (or for your generosity). This card sums it up best."
This also works great if the card is funny or completely the opposite of what you'd normally send (to make a joke). I sent my sister a Pro-Wrestling Birthday Card featuring The Rock in a white Elvis-style jumpsuit, which is a fine card, but not really "me". And she thought it was hilarious. She still has it.
You can also use some of the thank you poems I've published on my site (and in my free eBook–write me if you don't have it and I'll send you the PDF) as well as some of the thank you quotations I've assembled. Sometimes the words you need are already out there, you just need to search for it. Here's quick example of how to use a quotation in your card:
Jean Baptiste Massieu once said, "Gratitude is the memory of the heart." You have made an indelible memory in mine. Thank you.
You can make your own professionally printed card!
Most people think it's expensive, but you can have just ONE card printed for as low as $3.15 or even cheaper for a notecard through a company I use called Zazzle. You can upload a photo of you and the person you're thanking together or the gift they gave you or the project they helped you with, and use their design tool to say thank you.
If you're good at drawing you can add your own artwork. But also, you can customize the cards they have to insert the name of the recipient to make it look truly cool. Here's a card I made with a picture a friend drew for me: (P.S. If you use Zazzle via the links on my site they give me a small percentage. Thank you, Zazzle!)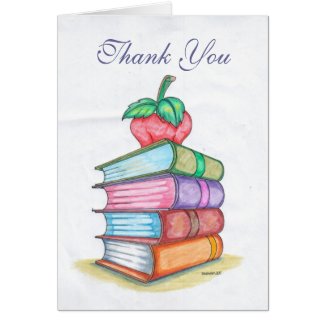 Thank You Teacher Card
by
christymurphy123
Find more Thank you teacher Cards at
Zazzle
Coming soon!
I'm working with a web developer to have a way for you to choose a card, customize the words, enter the recipients address and it will be mailed for you (using a font that looks handwritten). If you're like me and have health issues that sometimes makes it difficult to handwrite cards (or you're just busy) being able to send cards from the computer is a great help.
But until then, Joan (one of our fellow mini marathoners) sent me a great thank you card via this cool app!
Isn't that the neatest! I can't wait to download the app and try it myself. It looks like it costs $1.99. I don't get a commission on this, I just got the lovely eCard above and thought, I have to tell everyone about it.
Social Media Thank Yous
Did you get an eGift Card from Amazon or Starbucks? I know I did for Christmas. A quick, fun and easy way to send your thanks for something like this is to take a quick selfie of you enjoying the coffee (or just a picture of your coffee if you're camera shy) and tag the person on Instagram, Facebook, or Twitter. (Or share it to all three). You can include the popular hashtags #thankyou #gratitude and write, "@Generousfriend'shandle Enjoying your Christmas gift right now! #Thankyou!". Or in the case of Amazon card you can write, "Look what you @Nameofgenerousfriend bought me for my birthday!" and snap a photo of the picture of your open package from Amazon.